A colleague from noted commercial real estate firm Hughes Marino recently sent me an email detailing (in his words) the coming "tsunami" in regard to San Diego real estate. The average time on the market for office space is rising steeply, as the COVID-19 effect on the market is severe and only worsening. As a result, there are many fundamental business changes in process, and many on the horizon. The move to different operational modes – remote workforces and shifts to e-commerce, for example – has led to a spike in subleasing and broken leases. For others, tough market conditions have led to permanent downsizing or closure.
Overall, commercial real estate has never had such a quick and pervasive change thrust upon it, and this trend is by no means isolated to California. Across the country, companies of all sizes, especially enterprise-level, are developing revised workplace strategies.
As your business builds a cost-benefit view of your current workplace setup, your on-premise and off-premise IT environments should be at the core of your discussions. Even though tech infrastructure's impact is enormous it can often be deprioritized, or worse, lost in the shuffle. Something as important as your IT systems need to be front of mind in turbulent times. After all, your IT operations need to run properly and continuously no matter your real estate setup. Upsizing, downsizing, moving, dissolving, mobilizing – your tech applications need to support you before, during, and after the big decisions are made. Whether off-site or on-site, your IT solutions will undergird all of the large business change cases you are facing.
So, how can you make sure you are correctly considering your organization's IT as you restructure your company's physical space and workforce dynamic?
Realize that the solutions may not be simple. For instance, the success of a remote workforce depends on changes made to IT infrastructure, the move toward edge computing, distributed cloud networking, and a security landscape of hundreds, or potentially thousands, of points of entry.
Recognize the enormity of the task thrust upon your IT team. You may need to supplement their skills with a partner that brings specialized expertise to guide you in making an ROI-driven recommendation. How else will you know that you are considering and covering all pertinent factors?
As you're formulating your real estate strategies, make sure that you have valuable IT insight at the table. Things as crucial to business operations as networks, workloads, applications, security, and backup should not be afterthoughts, but rather, requirements as plans are built.
Business change is difficult enough. If you get caught up in the financial jockeying of shifting your business model without an assurance that your IT infrastructure can seamlessly follow suit, it will be more than just egg on your face – it could mean packing things up for good. As you re-examine how your business operates and where your people work, are you building IT infrastructure that supports their success?
##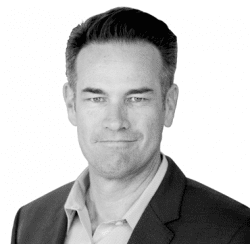 Matt Thoene is a data center, IT, and cloud executive with over 20 years of multi-disciplinary senior leadership. Read the article posted by Matt on LinkedIn.